Rick Reetz Joins Heathwood as Head Football Coach
It is with great excitement that Heathwood announces the hiring of Rick Reetz as Heathwood Hall's next Head Football Coach. 
Coach Reetz emerged from the pool of 35 applicants, and during his campus visit, he impressed a variety of constituents with his high football IQ, his success building programs, his commitment to the development of young men through the pursuit of high-level academics and athletics, and his awareness of independent schools.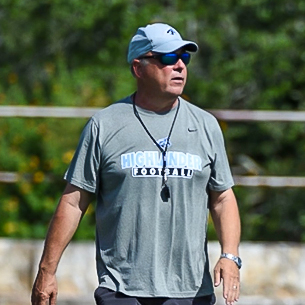 Rick is currently serving as an Offensive Coordinator and mathematics instructor at Rabun Gap Nacoochie School (GA). Prior to that, he worked at St. Andrew's Episcopal School (TX) where he was the Football Program Director, STEM teacher, and coach of the robotics team. 
Coach Reetz is well known in the world of SCISA football. He served as the Head Football Coach/Teacher at the Porter-Gaud School for ten years ('09-'19). During his tenure, he produced nine winning seasons out of ten, earning a 77-38 record, five state semi-finals appearances, two state championship appearances, and twice coached in the South Carolina Independent School Association Shrine Bowl All-Star Game. Following his time at Porter-Gaud, Coach Reetz served as the Offensive Coordinator at the James Island Charter School (SC).
Rick Reetz grew up in Rhode Island and earned a BS from Rhode Island College and an MBA from Bryant University. He began teaching as an adjunct Professor at University of Massachusetts - Dartmouth, Charlton School of Business, teaching graduate-level statistics, and then moved to teaching at the middle school level at the SAGE School (School for Academically Gifted Education). Mr. Reetz has taught a variety of subjects including math, physics, statistics, engineering, and personal finance. Prior to teaching, Mr. Reetz designed and manufactured production processes for Boeing, Harley Davidson, General Electric, and more.
Coach Reetz' foray into head coaching started in Rhode Island at three schools over the course of 15 years: Burrillville HS (RI), Moses Brown (RI), and Cumberland HS (RI). During his seven years at Moses Brown, his team collected a New England Prep School Championship in 2000 before moving to the public school league where he won three Rhode Island State Championships.
We are excited about the wisdom, experience, and knowledge of the game that Coach Reetz will bring to our program. It is rare to find such a talented coach and teacher who is fully committed to the pursuit of academic and athletic excellence while also believing in the primacy of sportsmanship and high character. 
Rick will be joining the Heathwood Hall community with his wife, Kim and their daughter, Jillian '24. Rick and Kim also have two older sons, Jay and Kyle, who reside in Charleston.