College Counseling Resources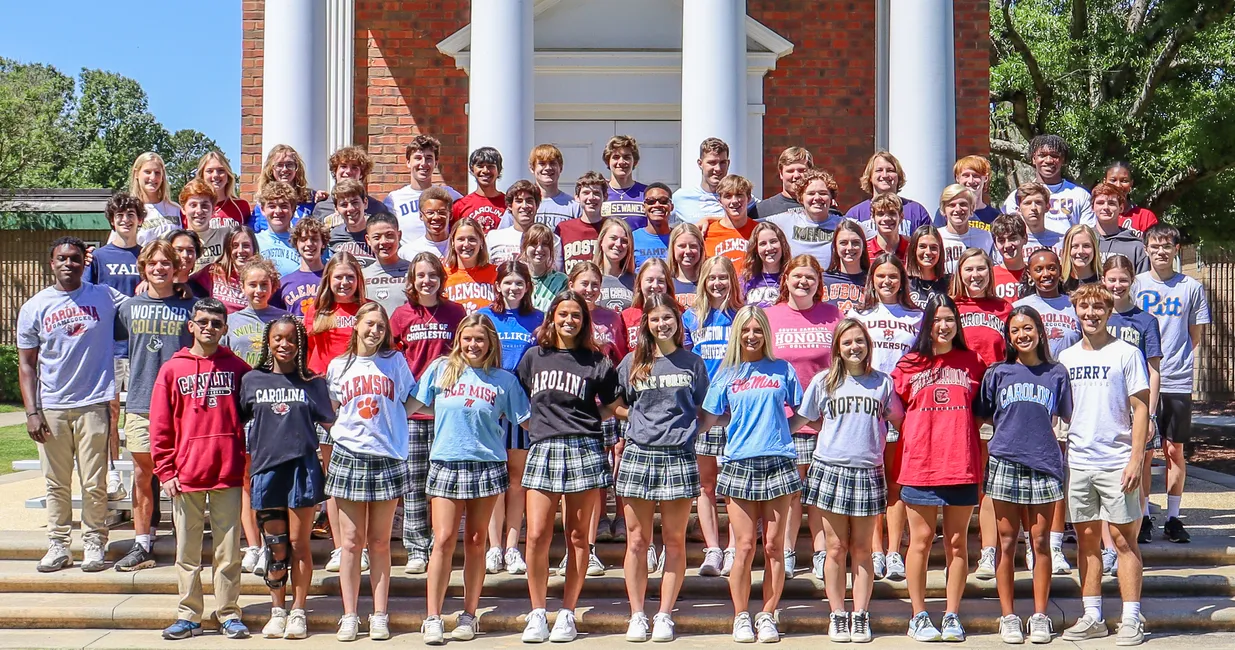 Heathwood graduates are college-bound and ready.
Heathwood graduates are prepared for the next phase of their academic careers. The College Counseling Office takes care to introduce our students and families to a broad range of options—there are over 4,000 undergraduate college options across the country and internationally.  Visits by college representatives in the fall are open to all students (Freshmen through Seniors) depending upon their schedules (i.e. study hall/free periods) and are announced to all students via the weekly letter and daily announcements.
Our priority is to know each young person as an individual and guide them in making informed choices in light of their aspirations, abilities, style, and strengths.
College Planning Process
We recognize that the range of college choices available to each student is directly related to their own effort and individual habits of mind. Therefore, we guide students in taking ownership of their high school education and college planning process, knowing that doing so will maximize the college options that will later become available to them. 
The college planning process formally begins in the junior year. A combination of meetings, events, and online resources enables students and families to engage thoughtfully in the process:
Students meet with college counselors one-on-one to discuss academic strengths, aspirations, and viable college options.

Day and evening programs throughout the year are designed to inform juniors and their families of various aspects of the college process and create excitement for the journey that lies ahead.

Representatives from local, regional, and national regularly visit Heathwood's campus to meet with juniors and seniors.

Students use Cialfo – an online college planning platform – to manage their search and applications.

Teachers and advisors communicate regularly with the college counseling staff as they prepare student recommendations.

Programs are available for students interested in playing collegiate sports, which includes guidance for students and families throughout their Upper School tenure.
On a more organic basis, the college counseling office engages freshmen and sophomores in developmentally appropriate ways so that they, too, may be inspired to position themselves optimally for a broad range of college options.
Freshmen and sophomores are introduced to Cialfo, our research/application platform, early in the fall semester.  Through Cialfo, they take interest tests and learn how to research college, make activity lists, and even build tentative college lists that will grow and change over the course of their high school careers.

Sophomores attend assigned college-representative visits to Heathwood in the fall and interact with representatives and the college office about the information they have learned.

Spring programming helps underclassmen to consider their appropriate curriculum choices and to learn more about what colleges require in the admission process.
Your Guides
The College Counseling Office staff works as a team to guide Heathwood Hall Upper School students to reach their future goals. Our counselors see our students as individuals, working to help them find their best-fit colleges and universities--schools that will nurture their abilities and undiscovered talents while allowing them to identify and pursue their career aspirations.  Our office views applying to college as a grand adventure, and we strive to help each of our students prepare for this exciting chapter of their futures!   
Meet our college counseling team.
Mary Beth Fry, Director of College Counseling

Mary Beth Fry has over twenty years of experience in independent school college counseling, including twelve years at Savannah Country Day School and eleven years at Shady Side Academy, in Pittsburgh.  She is particularly noted for her writing, and has been frequently asked to lead workshops on writing the Counselor Recommendation at regional SACAC conferences.  Mary Beth earned her undergraduate degree from Manhattanville College and her M.A. from the prestigious Bread Loaf School of English at Middlebury College.

Kenetta Dash, Associate Director of College Counseling

Kenetta Dash joined the College Counseling team in March 2021. Before Heathwood, she served as a college counselor at the South Carolina Governor's School for Science and Mathematics, where she provided attentive guidance to students and their families throughout all stages of the college search and admission process.  

Bringing 18 years of college admission and career preparatory experience from a variety of collegiate settings, Kenetta earned a B.S. in mass communications from West Virginia State University and a M.A. in communication studies from West Virginia University. She holds the Global Career Development Facilitator (GCDF) credential and is an Academy Certified Resume Writer (ACRW). Her professional memberships include the Southern Association for College Admissions Counseling (SACAC) and the Association of College Counselors in Independent Schools (ACCIS). Currently, she serves on the 2021-22 Counselor Advisory Board for Washington University in St. Louis.

Prior to working in education, Kenetta enjoyed a career in broadcasting, working for FOX and CBS affiliates, and hosting a weekly DJ slot at WMUL-FM. A proud West Virginia native, she has also called South Carolina home for the last 17 years. In her free time, she enjoys making memories with her family and friends, browsing estate sales, and traveling. She is very close to visiting 100 college campuses across the United States.

Mary Kay Deese, College Counseling Coordinator

Mary Kay joined Heathwood in 2017 as the Assistant Head of Early Childhood and Lower School. Since then, she has become a dedicated Highlander and shows her school spirit at Lower School Town Hall and cheering for The Hall at many sporting events. Prior to arriving at Heathwood, Mary Kay served as a site visitor, workshop leader, and consultant for the Primary Years Programme for International Baccalaureate for fifteen years. She and her family also spent a stint in Michigan where Mary Kay worked with Teach for America and the University of Michigan. For the first fourteen years of her career, Mary Kay worked at Spartanburg Day School as a third and fourth-grade teacher and IB Coordinator. Mary Kay graduated from Furman University with a BA in Elementary Education and has an MEd from Converse College in Gifted and Talented Education and an EdS in Curriculum Development.
Schedule of Colleges Visiting Heathwood
Cialfo
Cialfo is our dedicated college planning platform for research, storage, and document delivery.
Heathwood Hall College Counseling Handbook
Everything a student or parent needs to know about the college-counseling application process can be found in the College Counseling Handbook.
Deadlines and Timelines
The college application process is a deadline-driven endeavor. Planning work on applications and scholarships well before published deadlines is essential to ensure thorough components are included. 
Standardized Testing
Testing Dates:
PSAT - October 19, 2023
SAT - March 13, 2024
ACT - April 9, 2024
While many colleges and universities offer a test-optional path to admission, there are numerous reasons to take the SAT or ACT:
Admission may be test-optional, but scores may be required to qualify for scholarships, including the state-lottery scholarship funded in South Carolina.
Specific majors may require test scores.
Colleges may ask for test scores if your GPA is below a certain point.
Without test scores, the other elements of your application are weighted more heavily. 
**All Heathwood students will take the ACT and SAT on campus in the spring of their junior year.  We encourage students to take at least one additional test.  Please speak with a counselor to determine the best strategy for you. 
Financial Aid and Scholarships
Funding for college requires intentionality, no matter your financial circumstance. The following resources will assist and organize your approach. 
SMARTTRACK®

We're providing the SMARTTRACK® College Funding High School Initiative to assist our 9th-11th grade families with the financial piece of college planning. If you're concerned that you won't qualify for financial aid, haven't saved enough, or don't have an effective plan to cover the considerable costs of educating all your children, SMARTTRACK® can help. Click here to create your complimentary account. Already created your account?  Login anytime (but do not create a new account).

Financial Aid

Scholarships
Documents and Presentations
Did you receive a document from Heathwood College Counseling and now you can't find it?  Did you have a conflict with your schedule and could not attend an information session we hosted? You can find that information here!
College Search Process

Glossary of Terms

Questionnaires

Letters of Recommendations

The form for juniors to complete and share with teachers about letters of recommendation will be available in the spring of junior year via College Counseling

Heathwood Hall Upper School Curriculum Guide
Athletics
NCAA Eligibility >>

All athletes should complete OPTION 3 on the Eligibility Center Registration to be considered by college coaches in all divisions