PEAK
PEAK, an acronym for the Pursuit of Environmental Adventure and Knowledge, is Heathwood's signature leadership program. Founded in 1998, it presents students with hands-on opportunities in wilderness exploration, environmental education, and leadership development.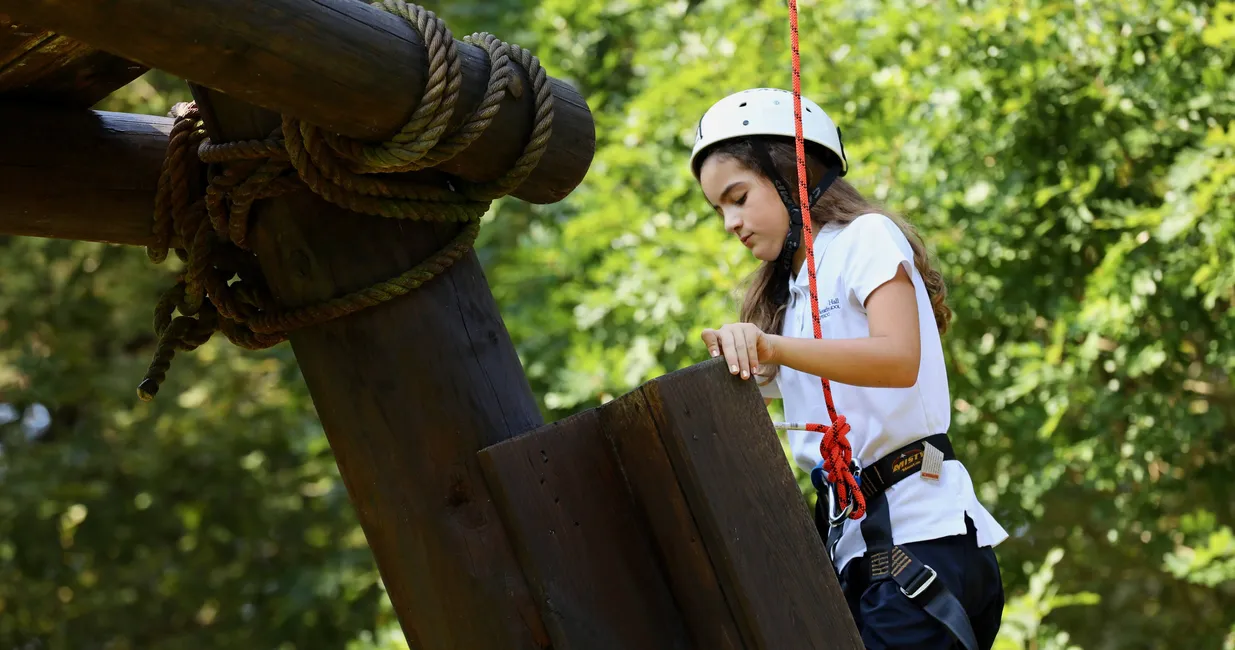 Experience the Learning
Through curricular, co-curricular and extra-curricular programs, the PEAK Program presents every single student at Heathwood Hall, from 2-year olds to 12 graders, with the opportunity to push their limits, become better leaders, and develop a love of adventure and the natural world.
PEAK programs . . .
promote an understanding and appreciation for the natural world,
develop and enhance specific sets of outdoor and wilderness skills, including those associated with paddling, climbing, mountain biking, backpacking and Leave No Trace wilderness ethics,
encourage positive and meaningful decision-making, communication, problem-solving, and team-building skills,
expand self-imposed circles of comfort and ability by promoting safe opportunities for healthy risk-taking,
inspire feelings of confidence, qualities of leadership, and a willingness to compromise,
encourage social responsibility and engage the local community to improve the quality of life for others.
In addition to curriculum-based formal Outdoor Education classes, the PEAK Program offers after-school adventure programs, multi-day adventure outings and expeditions for Heathwood students, programs and events for special interest and non-profit groups, community education programs, corporate leadership training and team building programs, and summer camps and expeditions. See Community Programs for more information for outside organizations. 
PEAK by Age
Early Childhood

Students in the EC 3s and 4s classes enjoy canoe rides on the Heathwood Pond in the fall and spring and hikes on the Weston nature trail throughout the year. Young students are introduced to archery through their study of Native Americans at Thanksgiving and visit the swamp at the end of the Heathwood road in an effort to enhance their observation skills and introduce them to a natural environment. Students in the 5s classes are introduced to climbing and have the unique opportunity to use the zip line to fly like a reindeer during the Christmas season.

Lower School

Classes

Students engage with the PEAK staff through programs arranged by classroom teachers to target specific elements in the curriculum. Third graders participate in an annual event that introduces them to a wetlands ecosystem during Habitat Week through a classroom lesson and a visit to a local swamp.

After School Clubs

A series of grade-level clubs are offered to students after school each semester that introduces them to climbing, paddling, biking, and archery among other activities. Bobcats (first graders), Coyotes (second graders), Hawks (third graders) and Mountain Lions (fourth graders) meet six times, each club meeting focusing on a specific adventure activity. Club space is limited and sign ups are available in August for fall clubs and in December for spring clubs.

Adventure Nights and Campouts

First and second graders have an opportunity to participate in Adventure Night in the fall, an evening of fun at Adventure Base Camp (ABC) that includes climbing on high ropes courses, swinging on the Giant Swing, and roasting marshmallows and eating s'mores at a campfire. Third and fourth graders have grade level campouts, engaging with elements at ABC, camping overnight in tents, and enjoying a pancake breakfast before heading home the following morning. Participation is open to all students in each grade for Adventure Night and campout events and registration is available beginning in August.

Middle School

Outdoor Education Classes

All middle school students take a 6-week Outdoor Education class each year which introduces them to an exciting series of adventure elements including high ropes courses at Adventure Base Camp, canoeing, kayaking and fishing at the Heathwood pond, mountain biking on the Weston Trail, archery at the archery range among other events. As students move through the grade levels, the skills learned become more advanced and complex.

PEAK Clubs and Campouts

Middle school students in grades 5-7 have an opportunity to participate in a series of adventure-based club activities throughout the school year. Activities and events include the ever popular Five Guys and Football which includes an afternoon of climbing at Adventure Base Camp (ABC) followed by a trip to Five Guys for dinner before returning to Heathwood for a Friday night varsity football game. Students also have multiple opportunities to ride mountain bikes on single track trails and paddle stand up paddle boards on local rivers, and to enjoy an overnight campout in tents or hammocks at ABC.

PEAK Student Leadership

Students in the 8th grade have the privilege of becoming engaged in the PEAK Student Leadership (PSL) program which allows students to help facilitate PEAK programs throughout the year. In order to participate, students must participate in a 2-day PSL training program held each year over the weekend before school starts in August. Having successfully completed the training, students gain access to the PEAK Google calendar in order to sign up for PEAK events at which they would like to work. Students who become involved in the PSL program are expected to complete 20 hours of work at PEAK events throughout the year.

MS Expeditions (Grade Level Class Trips)

Students at each grade level experience a trip, planned by grade-level teaching teams and the PEAK staff in an effort to connect the classroom curriculum with hands on learning opportunities. Fifth graders reflect on the establishment of the National Forests in the US and its affect on the Native America population with an overnight trip to Asheville with includes a visit the the Biltmore House, the Cradle of Forestry in the Pisgah National Forest, engagement with members of the Cherokee Nation in Western North Carolina. Sixth graders study marine science and ecosystems by participating in an overnight trip to Camp Sewee, located on the intracoastal waterway, engaging with professionals at the Clemson University Youth Learning Institute there. Seventh graders challenge personal limits of comfort by participating in a series of high adventure events at Asbury Hills, a camp located on Matthews Creek in upstate South Carolina. Students create a story by reflecting on their own experience during the 3-day, 2-night endeavor in the mountains. Eighth graders travel to the National Whitewater Center in Charlotte, North Carolina very early in the school year in an effort forge bonds of friendship and trust that will fare them well through their eighth grade experience. These same eighth graders travel to Washington DC for a multi-day experience in the nation's capital that brings lessons learned in their Civics class to life.

Upper School

Wilderness Explorations

Students have an opportunity to take Wild X, a semester-long, elective class that is adventure-based and promotes skills and activities related to wilderness exploration, leadership development, and environmental education and stewardship.

PEAK Student Leadership (PSL)

PEAK Student Leaders develop and enhance leadership skills by assisting with activities and events offered by the PEAK program throughout the year. PEAK sponsors a variety of different programs for individuals of all ages, including adults. Program activities include climbing, paddling, biking, backpacking, camping, leadership development and team building, and community service. As PSL members, students choose to become involved in programs that are of most interest to them.

In order to become Peak Student Leaders, students must participate in a Basic Training program held early in the school year. Upon completion of Basic Training, members are allowed to help facilitate basic level adventure programs. PSL members who wish to gain additional levels of training may participate in Guide Training Programs in the areas of whitewater kayaking, climbing, mountain biking, backcountry exploration, archery, and fishing.

PSL members are encouraged to complete 10 hours of service to PEAK programs each semester to remain a member in good standing. 

Outdoor Club

The Upper School Outdoor Club offers activities and events that are available for all Upper School students at Heathwood Hall. Typically, one adventure is planned each semester. Outdoor Club events are often single-day expeditions local on rivers and trails. However, multi-day events can be planned that take place in exciting and sometimes remote locations. Past trips have included zip lining high in the forest canopy of West Virginia, rafting the Gauley River (one of the largest whitewater rivers on the east coast), and swimming with manatees in the fresh water springs in Florida. The only prerequisites for becoming involved in the Outdoor Club are a sense of adventure and a willing spirit!

Summer Programs

PEAK offers a series of summer programs, which are available for current students and alumni. Past summer experiences have included trips to the Galapagos Islands, Mount Rainier, Olympic National Park, the Florida Keys, and the Boundary Waters Canoe Area in northern Minnesota.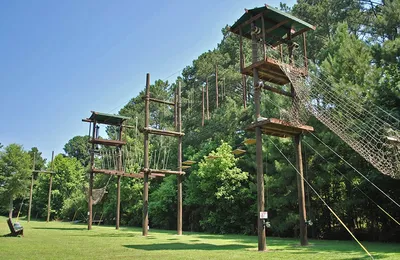 PEAK program facilities are robust and host a variety of activities and events. From high ropes courses to kayaks and canoes to mountain bikes and backpacks, the PEAK Program is well-suited to facilitate groups.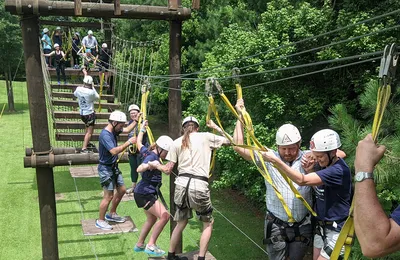 Leadership development, team building, and adventure activities and events for your professional organizations, school, community and church groups, scout troops, and families.
The Boyd Foundation PEAK Center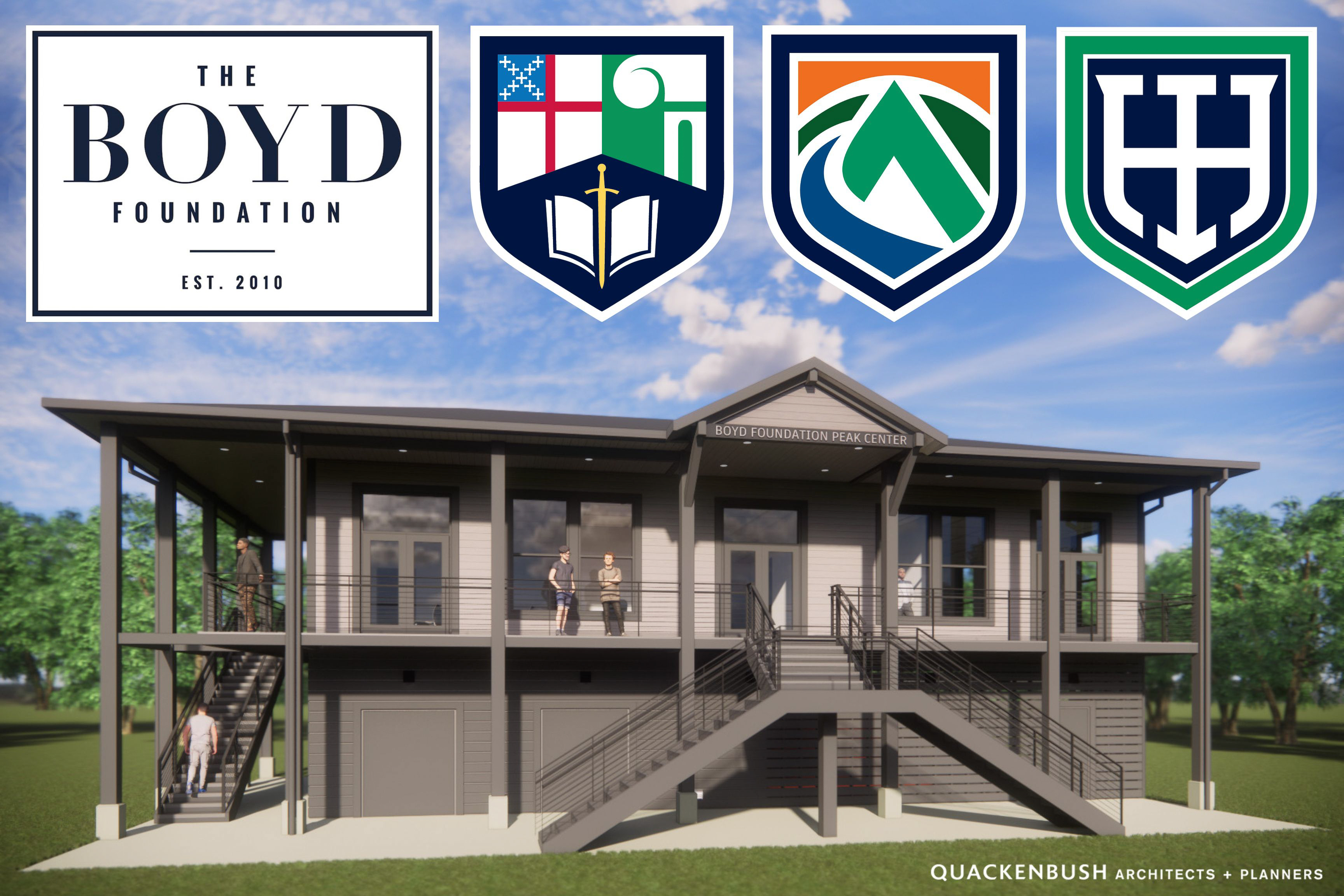 On January 11th, Heathwood Hall Episcopal School and the Darnall W. and Susan F. Boyd Foundation broke ground on new PEAK facilities on Heathwood's 122-acre campus. The Boyd Foundation generously donated $1.65M to Heathwood's PEAK program to expand its Adventure Basecamp, by enhancing existing ropes courses, adding new ones, and building the Boyd Foundation PEAK Center which will house classrooms, offices, and event space.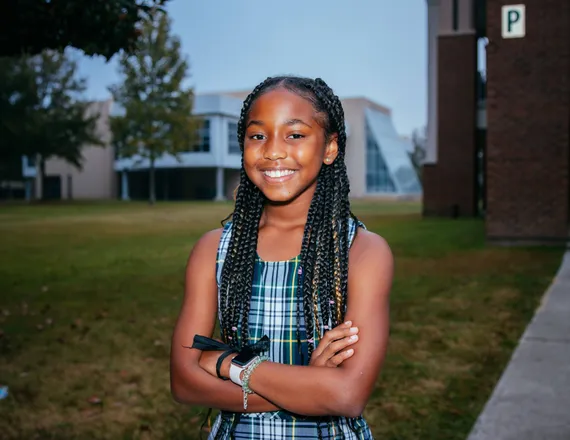 Our unique mindfulness training for Middle School students supports calm self-management during a time of transition and change.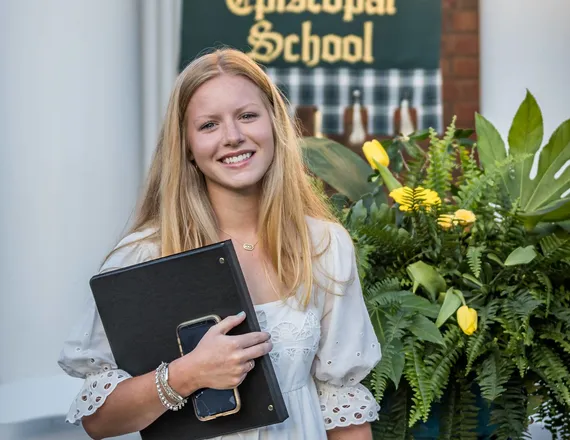 Each senior at Heathwood pursues an independent research project on a topic that they have a deep interest in.