Catherine Barnhill Named State Teacher of the Year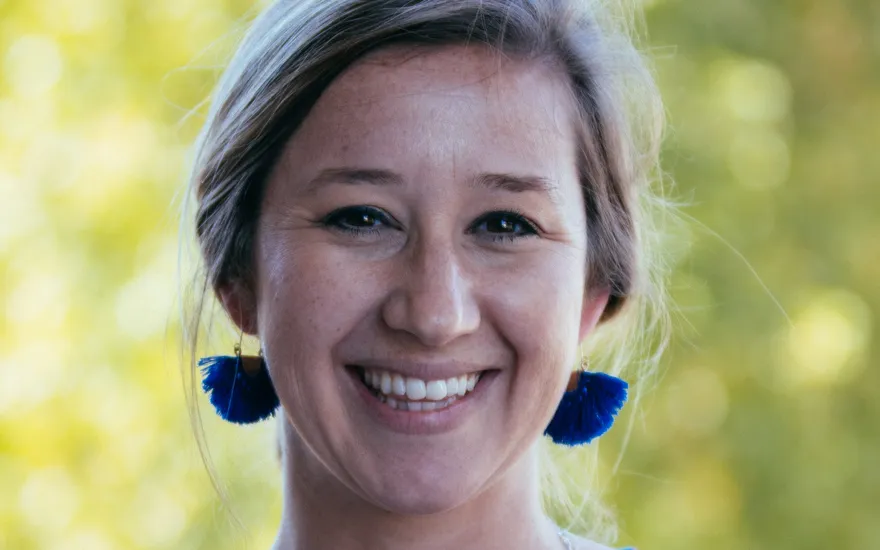 First Grade Teacher Catherine Barnhill is the 2022 South Carolina Independent School Association Lower School Teacher of the Year. She was presented with the award at a banquet on April 6.
Catherine "was born to be a teacher," said Head of Early Childhood and Lower School Stephanie Scanlon. "Her passion for teaching and her natural instincts about children enable her to excel at helping every child feel secure enough to face new challenges, make mistakes, and learn new things."
Head of School Chris Hinchey added that "Catherine Barnhill is an amazingly gifted teacher of students of all levels. She is able to differentiate for a variety of learning styles in the classroom, presenting material and learning opportunities in ways that make concepts accessible to all students."
Catherine herself said her teaching philosophy is grounded in a belief in "empowering students to be lifelong learners who question and think critically about the world around them. My hope is that every child who enters my classroom leaves with the desire and confidence to take risks, think deeply, and problem solve for the duration of their life."
A graduate of the University of South Carolina who holds a Master's degree in special education from Walden University, Catherine began working at Heathwood as a member of our Afternoon Express team while still pursuing her undergraduate degree. She joined the Heathwood faculty in 2011 as an associate teacher and became a lead teacher in the 2nd grade in 2012. From 2016-2018, she taught 1st and 2nd grades in Sheridan, Wyoming before returning to Heathwood in the fall of 2018 as our K-4th grade learning specialist and then, since 2020, as a lead 1st grade teacher.
Catherine is the 14th Heathwood faculty member to be named SCISA Teacher of the Year since the award began in 2001. Eighth Grade Civics Teacher Chris McDuffie was SCISA Middle School Teacher of the Year in 2021. Other recent honorees include Upper School English teacher Dr. Sally Plowden and Upper School Math Teacher Rip Blackstone.