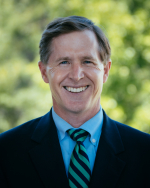 Dear Friends of Heathwood,
Heathwood Hall is truly an incredible community. Our educators, whether in a classroom, on the field or court, on the stage or practice room, or on a ropes course or in a garden, know your children. 
When I arrived at Heathwood as Head of the Upper School in 2013, I quickly realized I had landed in the kind of academic environment every educator dreams of: a sprawling, biodiverse campus that creates endless experiential learning opportunities, committed faculty, highly engaged students, thriving athletic and extracurricular programs, and a strong and supportive community of parents, alumni, and friends.
Founded in 1951, Heathwood has a rich history and has earned a national reputation for educational leadership. Our graduates at schools like the University of Virginia, Vanderbilt, Tufts, Clemson, Davidson, Duke, Wake Forest, and University of South Carolina report that they are well prepared for the academic challenges of higher education and thriving in a variety of academic disciplines.
In addition to an excellent academic program, we are committed to your children's spiritual, moral, and holistic development. Marjorie Anne Foster, 2015 Upper School President, captured the essence of the Heathwood Hall experience in the closing paragraph of her commencement speech, "So to us, class of 2015, I hope you all remember what it feels like right now. No matter what angle you look there is someone here who knows you, loves you, and who has worked to get you here today. Maya Angelou stated, "I've learned that people will forget what you said, people will forget what you did, but people will never forget how you made them feel." Class of 2015; always remember how Heathwood Hall Episcopal School has made you feel and carry that on to wherever you go."
I started my career in education as a science teacher, basketball and baseball coach, advisor, and dorm parent in 1991 at Avon Old Farms (CT). In 1994, I transitioned to Salisbury School (CT) where I remained for 19 years while serving as a biology teacher, Dean of Students, Dean of Faculty, and varsity basketball and baseball coach. For the first twenty-two years of my academic career, I enjoyed the strong community bonds that are part of the boarding school environment. Students were known, and their personal, scholastic, and physical development was the primary focus of the educators. Thus, when I considered pursuing new professional opportunities, I was determined to find a school where community was paramount. My wife, Heather, and I feel blessed that we found it at Heathwood Hall. Our three children, Ryan (class of '22), Jack ('25), and Will ('27) are thriving here and they are known and cared for by a variety of adults.
My office door is open and my email inbox awaits your thoughts. I look forward to getting to know you and your children, and I encourage you to reach out to me if you have any questions.
Kind regards,
Chris Hinchey
Head of School