Plan Your Visit
Words can't fully capture the on-campus experience at Heathwood Hall. That's why we welcome all parents to come for a tour.
Find Us
3000 South Beltline Blvd.
Columbia, South Carolina 29201
803.765.2309
Online Information Session
Join us for a lunch-hour open house, where you'll have a chance to meet our Head of School and ask questions about Heathwood Hall.
Not just an education, an experience.
We often hear comments from students and parents about how different Heathwood is from other schools. What makes us so unique?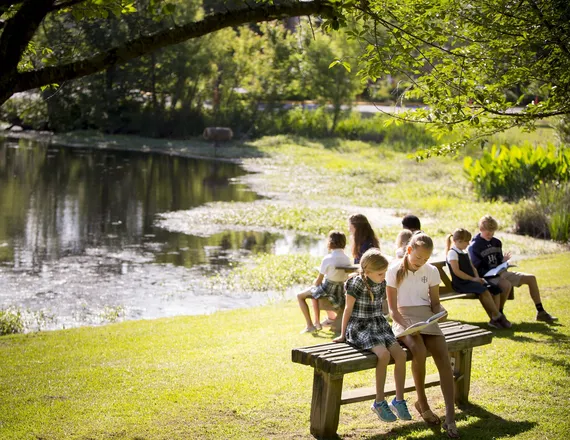 Indoor/Outdoor Campus
Our outdoor amenities allow students to take calculated risks and learn more about the natural world around them.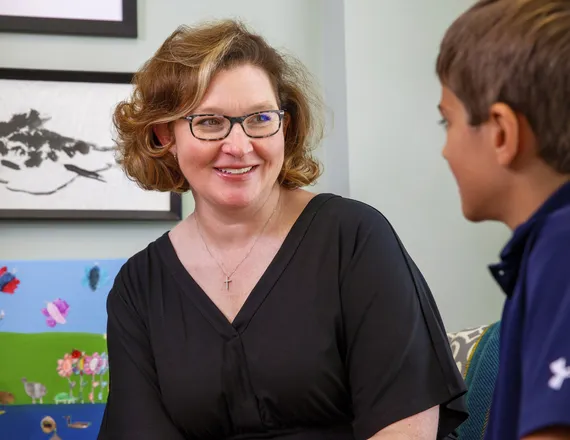 Personalized Attention
At Heathwood, no child falls through the cracks. All of our students get special attention to help them succeed.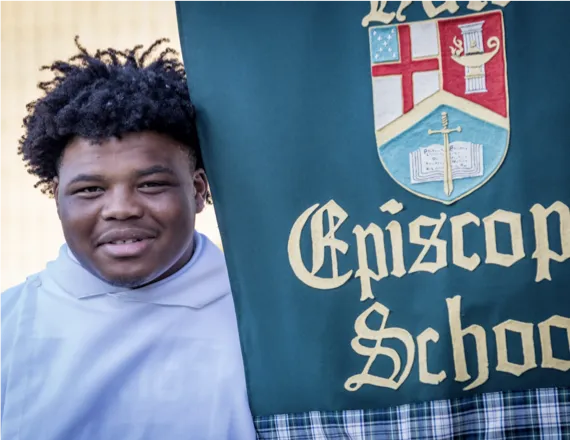 Episcopal Values
Emphasis on important values like caring for other people means we're not just creating good learners—we're creating good people.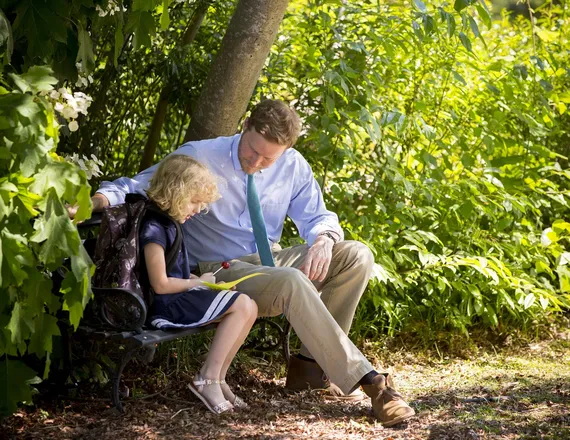 Teachers Who Care
At Heathwood, no child falls through the cracks. All of our students get special attention to help them succeed.
Find your way around our 122 acre campus.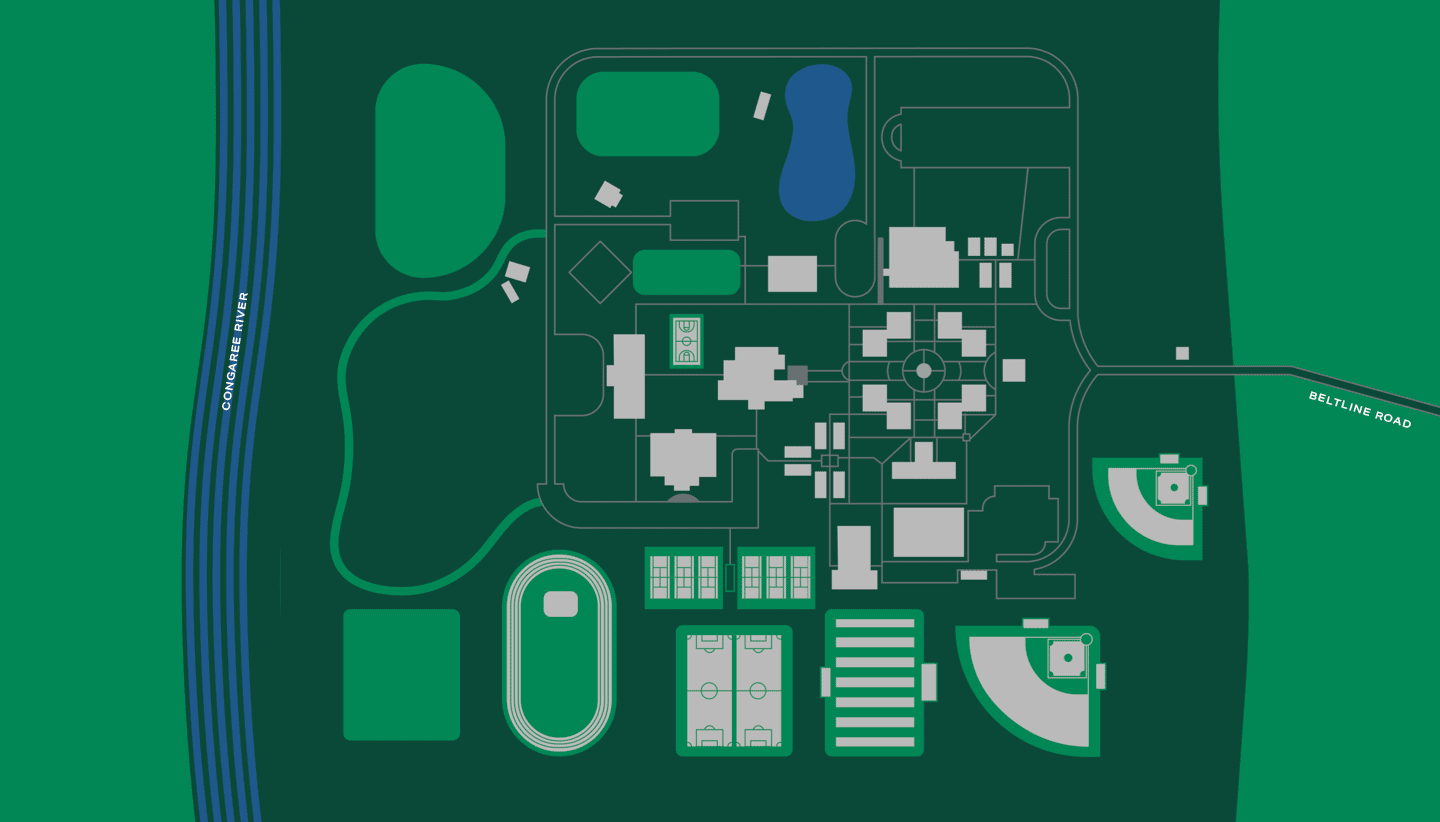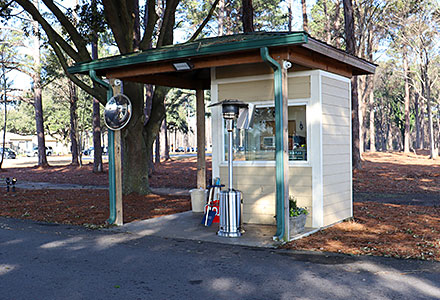 Guard House
Here at the main entrance to our campus, you will be greeted by our Front Gate Guard. If you do not have a Heathwood decal on your windshield, the guard will ask you to stop and let him or her know who you are visiting on campus. The guard can also provide directions to your specific location and let you know the best place to park.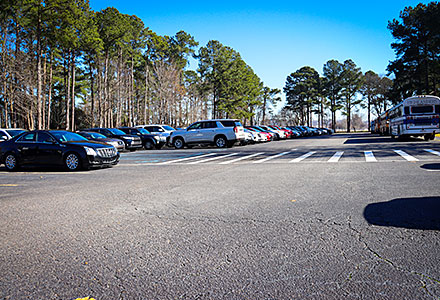 Campus Center Parking Lot
Park here if you are headed to the Smith Shirley Campus Center (Admission Office, Head of School, Rainey-Belser Auditorium, Library) or to the front cottages (front office, business office, physical plant, advancement/development, marketing/communications, school resource officer). Because this is one of the largest lots on campus, it can also provide overflow parking for events in the academic divisions and in athletics.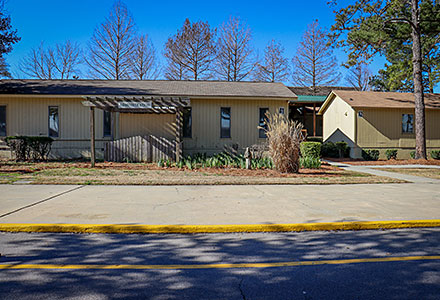 Administration
Many of our administrative offices are housed in this group of four cottages at the front of campus: in addition to our front office, you'll find the business office, the physical plant, our advancement/development office, alumni relations coordinator, marketing and communications department, and school resource officer here.
Smith Shirley Campus Center
Central to the life of the School, the Campus Center houses our 250-seat auditorium and our library, as well as our drama and chorus departments. It's also home to our admission office, Head of School's office, and technology department.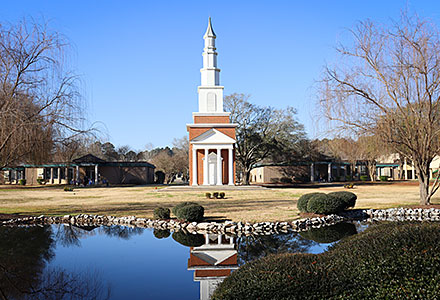 Goodall Bell Tower and the Front Lawn
The Bell Tower greets visitors as they come through the gate and the bells in its tower chime at 8:20 a.m. to start the day and at 3:05 p.m. to mark the conclusion of the academic day. Additionally, the Bell Tower has served as a focal point for outdoor celebrations and Lower School students can often be found playing, running, reading a book, or drawing an outdoor scene.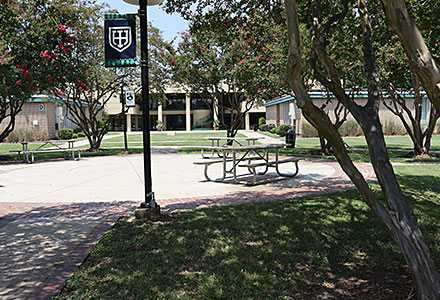 Lower School Quad
Our Lower School classrooms are all housed in the two one-story classroom buildings located closest to the Campus Center. Spacious and well-lit by large windows taking up most of one wall, the classrooms are clustered together in groups of four, with each group sharing an interior hallway and set of restrooms. The Early Childhood/Lower School office is located on the west side of the west building (to your right, if you're facing the Lower School from the Campus Center). The School's Health Center is located on the south side of the west building.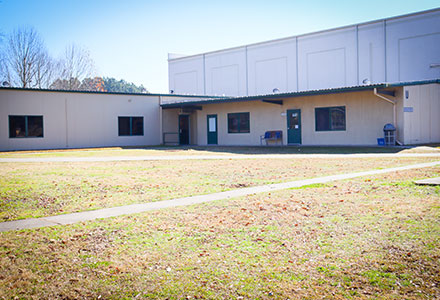 Fine Arts Building & Band/ The Plaid Peddler
The "T Building," which was originally home to Heathwood's chapel, several classrooms, and the Dining Commons, now houses our campus store, The Plaid Peddler, and our band room. Open from 8 a.m. - 4 p.m. on school days and on a modified summer schedule, the Plaid Peddler sells uniform items and spirit wear in both youth and adult sizes, as well as spirit items (everything from hair accessories to blankets to mugs and keyrings) and snacks.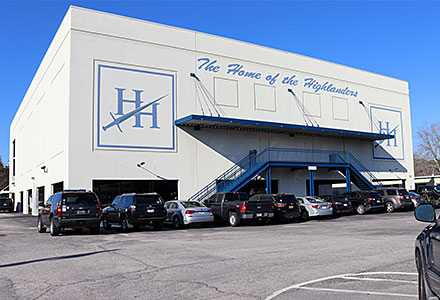 Athletic Center Upper Gym
Heathwood's primary gymnasium hosts varsity and JV basketball games and volleyball games at all levels. Highlander fans sit in the south stands (to the right as you enter the gym from the lobby) and away fans sit on the north side. The gym is elevated and can be accessed by a ramp on its west (farthest from the parking lot) side. The hospitality suite and locker rooms are one floor up from the main level.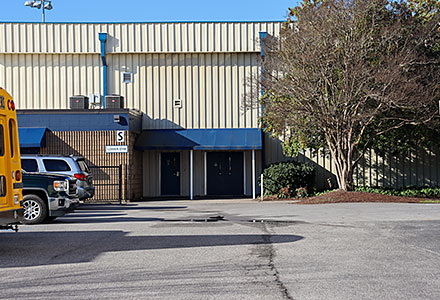 Lower Gym
Our Lower Gymnasium hosts wrestling matches and most middle school basketball games. Our strength and conditioning facilities, training room, and most coaches' offices are also located here. The primary entrance to the Lower Gym is the set of doors facing the Athletic Center parking lot.
Softball Field
As you come through the gates and look to your left, you will see the softball field. While the Heathwood Hall softball team utilizes it in the spring, you can sometimes find a youth baseball team from the neighboring Palmetto Baseball League (PBL) benefiting from the proximity of the enclosed and spacious green field.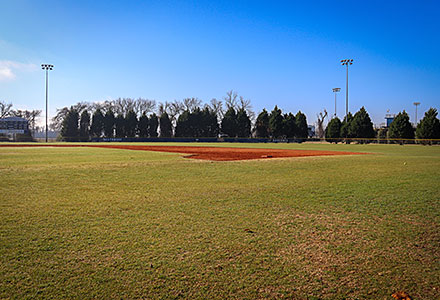 Baseball Field
Located adjacent to the junior lot (gravel parking lot) and the lawn near the Football Stadium field, the baseball field is home to the Heathwood Hall baseball teams. While the field is predominantly used by Heathwood teams, college and youth club teams also benefit from the well-groomed and lighted baseball field.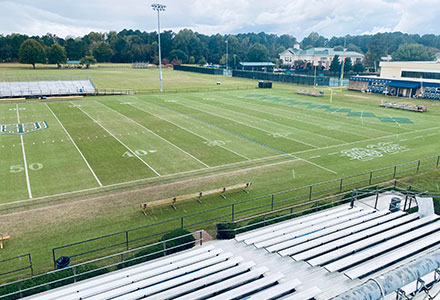 Stadium Field
Home football, soccer, and lacrosse games are all played here. Highlander fans sit in the east bleachers (the taller ones, closer to Bluff Rd.) and away fans on the west side. The concession stand and restrooms are in the one-story building that's to your left as you enter the stadium complex from the parking lot.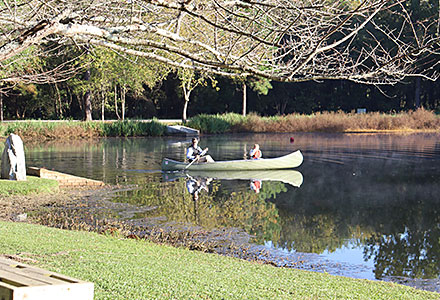 Pond
Our one-acre pond hosts paddling, fishing and activities related to aquatic ecology. A deck and connecting dock allow for small groups to gather near and on the water, and a ramp allows for easy canoe and kayak entry into the pond. We have paddling and fishing gear and dozens of boats including canoes, kayaks, and stand-up paddle boards.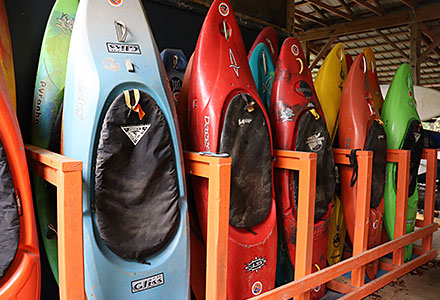 PEAK Boathouse
Housing kayaks, canoes, paddle boards, and more, the PEAK Boathouse is the starting point for on-campus water sports and activities. Its dock also serves as an instructional space for study of the pond habitat.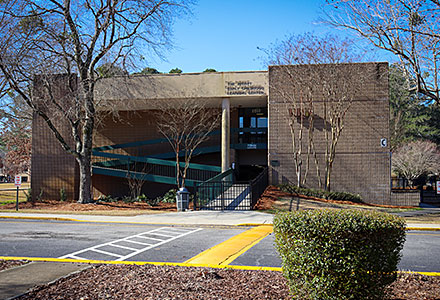 Averyt Early Childhood Center
Home to our youngest Highlanders, the Averyt Early Childhood Center houses grades EC2 - EC4 in large, sunny classrooms specifically designed for young learners. Heathwood's Extended Learning programs - Afternoon Express, After-school Enrichments, the Thought Studio, and Summer Programs - are also based in the Averyt Center.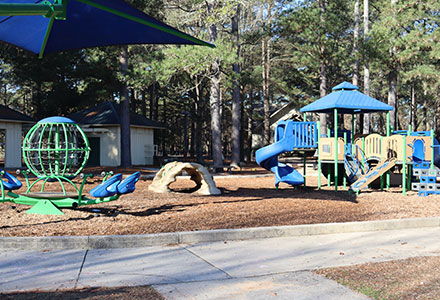 EC Playground
Built in 2018, the EC Playground boasts X acres full of play structures designed to develop our youngest learners' gross motor skills, fine motor skills, creativity, and love for the outdoors. The EC Playground includes a picnic pavilion, mud kitchen, sand box, gymnasiums, and seasonable gardens.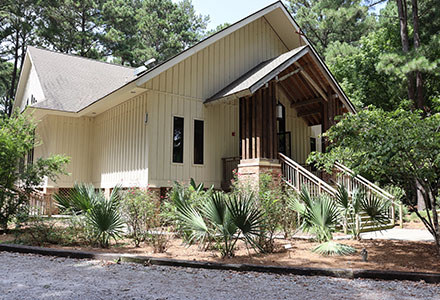 The Chapel of the Epiphany
All Heathwood students attend weekly services in the Chapel of the Epiphany, which was designed both to be in harmony with its natural surroundings and to serve as a physical manifestation of key tenets of the Episcopal faith. Most notably, it is constructed so as to literally put students at the center of the worship experience. It was also intentionally designed to serve as a space for teaching, learning, and reflection about Christian traditions and values.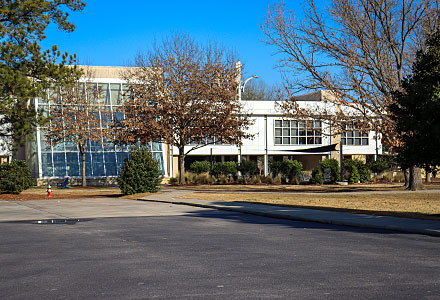 The Robinson Center for Math and Science
Named for Heathwood's founding Head of School, Susan Gibbes Woodward Robinson, the Robinson Center was built in 1996 as part of the School's commitment to cutting-edge science and math education. In addition to housing Upper School science, math, and language classes, it is also home to the Upper School's administrative offices, the college counseling office, and Heathwood's makerspace.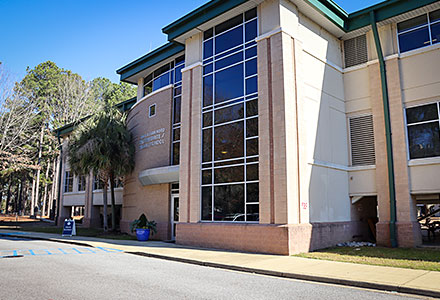 The Nord Middle School
The Nord Building houses all core subjects for students in 5th - 8th grades. Bright, light, and airy, its distinctive features include wide hallways, spacious common areas, large lockers for each student, and cozy loft spaces in many of the top-floor classrooms. The Middle School administrative offices are located just behind the central common space on the main level.
The Dining Commons
Designed to comfortably accommodate large groups for meals and other gatherings, the Dining Commons opened in 2012 and is where students and faculty across all divisions eat lunch daily. Meal service by FLIK Campus Dining is nutritious and varied, featuring both vegetarian and meat-based hot entrees every day, as well as robust sandwich and salad bars, the Dining Commons Conference Room is located to the left of the main dining room.
PEAK Adventure Base Camp
The PEAK outdoor leadership and experiential education program is anchored at Adventure Base Camp, where many of its facilities are located, including the Odyssey Ropes Course, designed for small-group team development, the Alpine Tower, which offers individuals opportunities to challenge themselves through a 50-foot vertical climb, the Ninja Ropes Course that challenges younger students in a fun, non-intimidating way, and the archery complex.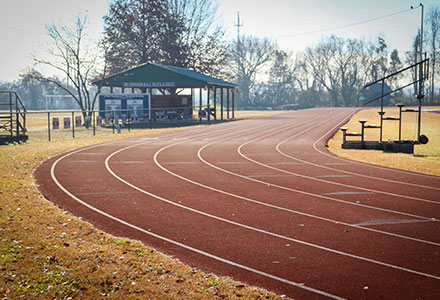 The J. Henry Woodward Jr. Track
The J. Henry Woodward Jr. Track Complex opened in 1988 and features a ¼-mile track as well as facilities for field events ranging from shot put to pole vault to long jump. Its J. West Summers IV Memorial Pavillion is home base for all the teams in Heathwood's storied running program, which has consistently been among the best in the state throughout the 21st century.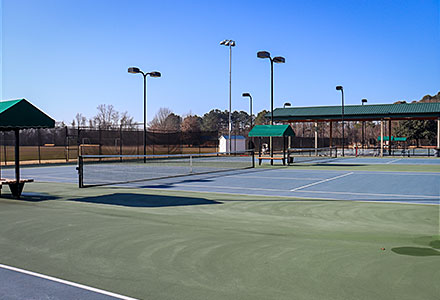 The Averyt Tennis Center
The Averyt Tennis Center features six hard courts anchored by a central pavilion with bleachers where fans can watch matches. Opened in 2017, it occupies the same footprint as the School's original Wells-Roberts Tennis Center, which sparked strong growth in Heathwood's tennis program when it opened in 1984.