9th Grade Field Trip Helps Set Students Up For Success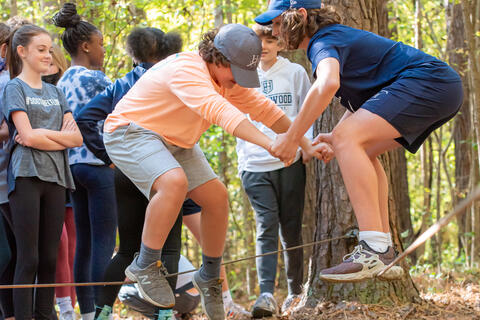 A successful academic journey takes more than just good study skills, and on Monday, November 8th, our ninth grade students traveled to Saluda Shoals Park in Irmo for a fun day full of learning and adventure that also helped develop some of the habits, traits, and insights that will set them up for success throughout their Upper School journeys. Ninth grade teachers, college counselors, and our emotional wellness team put their heads together to plan a three-rotation workshop in the morning, before the students hit the outdoors for a picnic lunch and an afternoon of team building.
Our morning workshop consisted of three sessions where students gained valuable information to help them navigate their first Upper School exams, manage their stress, and take care of themselves as the semester winds down, and know what to expect with the college process over the next few years. 
College Counselors Mary Beth Fry and Kenetta Dash did a group activity that guided students through their personal preferences related to college, allowing dialogue and conversation around choice and fit. They also helped students understand how and why one needs to build a strong foundation (transcript) as a ninth grader, and how to become involved in activities that will develop and define their interests.
Lisa Norman, James Hane, and Tim McKnight's session focussed on preparing for exams, and what students can be doing now to set themselves up for success in these final weeks of the semester. They were provided a study outline for each of their subjects, a guide to healthy study habits, and a calendar they can fill in with extra help times and scheduled study times during exams. 
When students came through my rotation, Stan Wood and I asked them to tell us what was going well so far in the ninth grade, and in what areas they felt like they could improve. We asked students to share some of their stressors with the group, and we discussed some healthy ways to take care of themselves mentally, physically, and emotionally in an effort to reduce stress.  The students were engaged and asked great questions throughout the morning sessions, and it was a pleasure to be with them in this way.
The weather was beautiful and we enjoyed some downtime during our picnic at one of the park shelters. After lunch, three park rangers met us there to guide students through team-building games and activities for the rest of the day. The low ropes initiatives were designed to challenge the students to work together with their group to complete a task. Frustration and failure were often felt before the group members figured out how to work together and solve the problem. With each initiative they worked through, we could see the communication and camaraderie building among the students. The students were enthusiastic about these fun and challenging activities throughout the afternoon. 
All Articles
Author
Elizabeth Grove '95, Upper School Counselor