Buddy Program Eases Transition to Middle and Upper School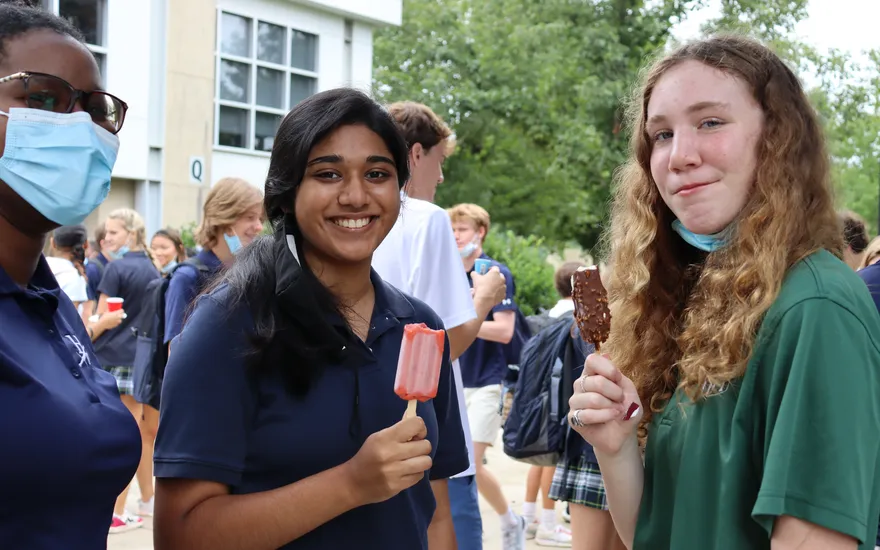 Moving to a new division can feel daunting -- but a new Heathwood program is designed to ease the transition. The Upper School's 9th and 12th grade buddies and the Middle School's 5th and 8th grade buddies met this week to start making the connections that help new students feel welcomed into the community.
In keeping with Heathwood Hall's longstanding tradition of buddy programs that pair older and younger students together in the classroom -- such as Biology Buddies, Reading Buddies, and Book Buddies -- the new program pairs each 5th grader with an 8th grader and each 9th grader with a 12th grader. Students were given time this week to get to know their new buddies, ask and answer questions, and share information and insights. The 8th graders walked the 5th graders through the Middle School's Honor Code and Code of Conduct, while the 12th graders made it a point to get to know their 9th grade buddies in a well-rounded way.
The goal for the buddy system, said Upper School Counselor Elizabeth Grove, "is to help break down some of the social barriers that can cause anxiety among students. By learning someone's name, showing an interest and being kind to them you can make a tremendous difference in someone's comfort level here at school." 
Both groups will continue to meet throughout the year, the Middle Schoolers monthly and the Upper Schoolers quarterly.
"My hope," said Mrs. Grove, "is that our seniors will inspire the grades behind them to step into this role with enthusiasm to show Heathwood pride when their time to lead comes. Heathwood is about community, and we will all be our best selves if we work together."