Girls Cross Country are 2021 State Champions; Boys are State Runners-up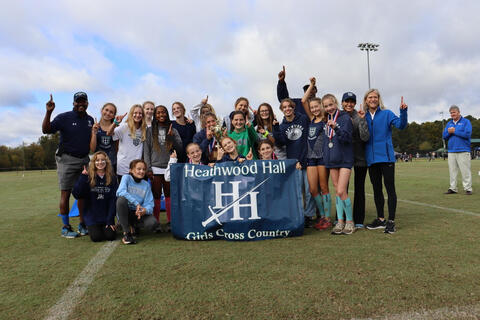 Heathwood's Girls Cross Country team ran away with the SCISA State Championship on October 30, beating the next-closest finisher by 47 points. Sophomore Madelyn Gomez captured the individual state title for the second year in a row.
The Heathwood boys also capped off a strong season with an impressive finish, claiming State Runner-up and coming within two points of capturing the state title.
For the girls, Madelyn Gomez, Lydia Smith, and Annabel Martin all earned All-State honors, while Reston Wood, Madeline Hurst, Charlotte Greer, and Logan Wells rounded out the top seven. On the boys' side, Jackson Engh, Matthew Black, and Hugh Willcox were named to the All-State team, and Dean Brook, Conor Greer, Noah Smith, and Robert Golden were also in the top seven.
Heathwood's running programs are on a winning streak: both the boys and girls track teams captured state titles in the spring, and Boys Cross Country won the 2020 state championship, while the girls were state runners-up.