Heathwood and the Boyd Foundation Break Ground on New PEAK Facilities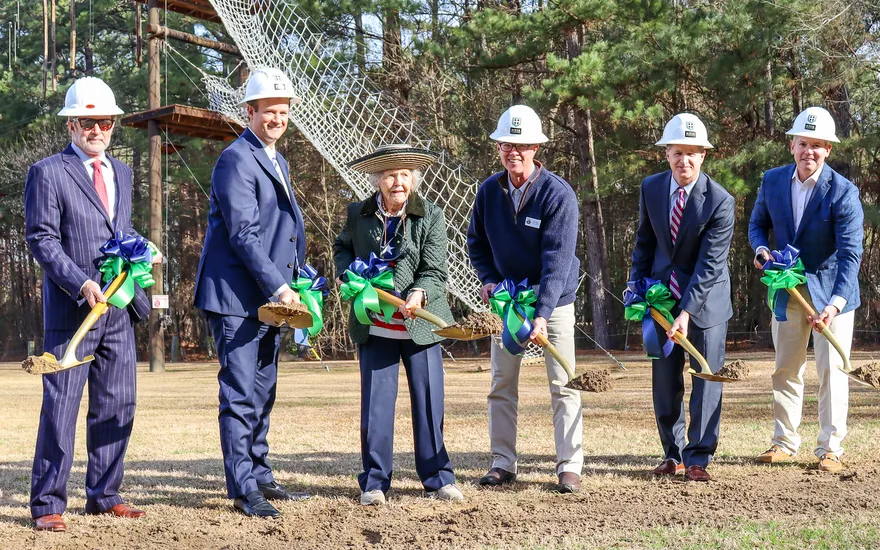 Today, January 11th, Heathwood Hall and the Darnall W. and Susan F. Boyd Foundation broke ground on new PEAK facilities. The event marks the culmination of months of planning. The Boyd Foundation is donating to Heathwood's PEAK program to expand its Adventure Basecamp by enhancing existing ropes courses, adding new ones, and building the Boyd Foundation PEAK Center. The 2,000 sq ft building will house classrooms, offices, and event space.
PEAK, an acronym for the Pursuit of Environmental Adventure and Knowledge, is Heathwood's signature outdoor leadership program. Founded in 1998, it presents students with hands-on opportunities in wilderness exploration, environmental education, and leadership development. Programs are offered to all grade levels and cover a range of outdoor activities. On Heathwood's campus, students can climb the 50-ft Alpine Tower, navigate the Odyssey Ropes Course, learn Wilderness First Aid, and master canoeing, kayaking, and stand-up paddle boarding on the pond. Off campus, PEAK organizes a number of outdoor adventures - locally, regionally, nationally, and internationally. Students enjoy paddling on the Saluda and Congaree Rivers, camping and hiking in Pisgah National Forest, exploring National Parks across the country, and participating in a variety of adventure activities in Costa Rica, Mexico, Peru and other countries.
Many of these programs are led by PEAK Student Leaders, Upper School students who have undergone extensive training. In addition to conducting activities, PEAK Student Leaders serve as peer mentors who pass on their love for the outdoors and lessons learned in leadership.
PEAK has helped generations of Heathwood students push their limits, become better leaders, and develop a love of adventure and the natural world. The Boyd Foundation's generous gift will enable us to continue PEAK's important work of forging the next generation of outdoor enthusiasts, leaders, and conservationists.
Construction on the new PEAK facilities is expected to be complete before the end of 2023. The Boyd Foundation PEAK Center - rendered above - will serve as a classroom and teaching space and enable PEAK to offer programming to the greater Midlands community. 
The expansion of the PEAK Program will increase the resources available to Heathwood students, enable the school to host more church groups, corporate groups, and youth groups, and expose others to Heathwood Hall and the amazing program built by Stan Wood. Hands-on learning and serving others are essential components of Heathwood's mission, and the Boyd Foundation's gift will assist us with advancing these directives. We are deeply grateful for their support.