Heathwood Lady Highlanders Flash to Victory at Woodward Invitational Track Meet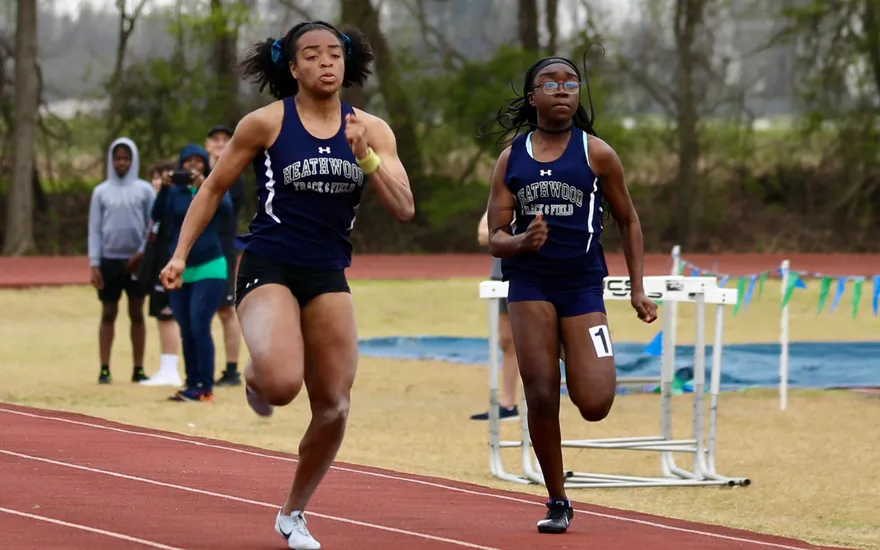 The Heathwood Hall Girls Track & Field team turned in an outstanding performance today at the 2022 Heathwood Henry Woodward Invitational, which featured 297 student-athletes representing 8 schools and 16 teams (boys & girls). The Lady Highlanders finished in first place with a team score of 199.5 points vs. Dutch Fork's second place 98 point total. The Highlander charge was led by junior co-captain Gabby David who scored 40 points with four 1st place finishes – long jump -18'2.5"; high jump -5'0"; 100 meter dash-12.53; triple jump – 34'9.25". Moreover, sophomore Nicole Craft captured three second place finishes, good for 24 points, in the discus, shot put, and javelin. Her marks in the discus and shot put both met the SCISA state qualifying standard. 
The balanced team performance also included outstanding efforts from first place finishers Madeline Hurst (3200 meter run), Allison Davis (100 meter hurdles), Queseya Rhooms (200 meter dash), Pamela Ann Pope (pole vault) and the 4 x 800 meter relay (Mary Frances Iseman, Madeline Hurst, Reston Wood, and Madelyn Gomez). Additional top three finishers and medalists include Queseya Rhooms (3rd -100 meter dash), Lydia Smith (2nd – 1600), Madelyn Gomez (2nd – 800), Mary Frances Iseman (3rd – 800), Daryn Binns (3rd – 200 meter dash), Mary Ruskell (3rd – high jump), the 4 x 100 Relay (Niya Evans, Evie Powell, Daryn Binns, Queseya Rhooms – 2nd place), and the 4 x 400 Relay (Mary Frances Iseman, Logan Wells, Madelyn Gomez, Queseya Rhooms – 2nd place). The Heathwood girls track team has now qualified student-athletes in 16 of 18 events featured in the state track & field meet!