Middle School Career Day Allows Students to Explore Multiple Options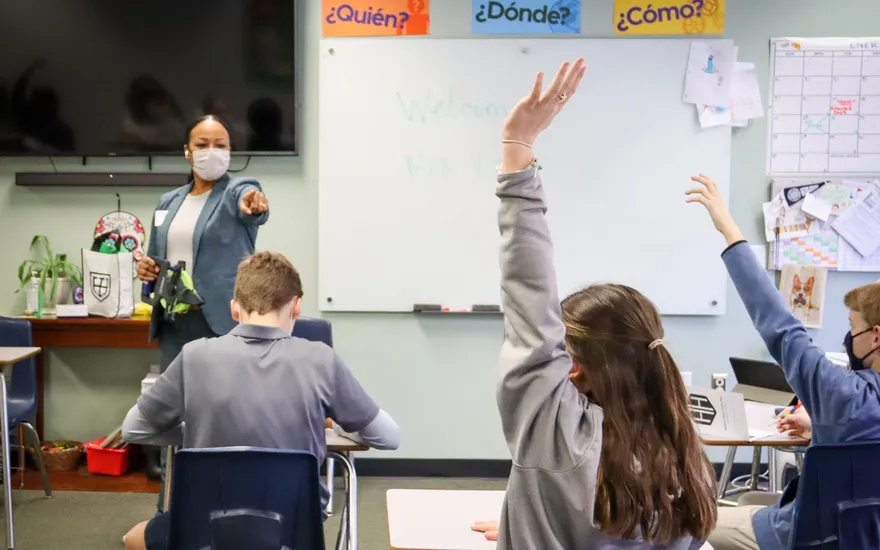 From manufacturing to consulting, from dentistry to pediatrics to nursing, from aviation to acting to academia, Heathwood's 5th - 8th graders had the opportunity to explore some 20 different professional options at the Middle School's annual Career Day on February 2.
Heathwood alumnus Nate Terracio, who is now the Director of Columbia's Koger Center for the Arts, described how he discovered his love of theater as a Heathwood student. Heathwood parent and President of Claflin University Dr. Dwaun Warmack described his journey from professional sports to becoming the nation's youngest college president, a journey that began with a simple desire to return to his high school as a teacher and coach once his athletics career had ended. Realtors, restaurant owners, military leaders, and others all offered both insights into their chosen fields and stories about their career paths. Students signed up to attend the four sessions of their choice, and had the opportunity to ask questions of each speaker.
Middle School Career Day, said Middle School Head Maria Madden, "is one of my favorite signature events in our division.  It provides students the opportunity to hear from a variety of adults in different professions and not only hear about what their careers entail from a day to aspect, but also about each person's career path.  Students often think that the path to finding their passion is a straight line, and this year many of the presenters shared stories of their journey that included stops and detours along the way, all of which contributed to their success and ability to find the best for their skills and talents.  Middle School, with all of its ups and downs, is an ideal time to remind students that they don't need to have all of the answers right now in terms of their future goals and plans.  We strive to provide students with experiences that will help students identify and cultivate the unique gifts they possess to assist them in finding their passion and purpose for the future!"
Thank you to all of the talented professionals who shared their stories and perspectives with our Middle Schoolers this year:
Dr. Trell Belk -- Dentist
Mr. John Brunty -- Owner, Crave Market
Mrs. Kitwanda Cyrus -- Owner, Kiki's Chicken and Waffles
Mrs. Kiaya Demonbreun -- Mental Health Counselor Associate
Chief Lloyd Dunham -- Pilot, Richland County Sheriff's Department
Mr. Josh Hesley -- Senior Manager, Deloitte Consulting
Lt. Col. Tim Higley -- U.S. Army
Mr. Patrick Michael Kelly -- Professional Actor and Director, and Adjunct Professor of Drama
Dr. Alicia McFarland -- Pediatrician
Mr. Lyman Munson -- President, Metalworking Manufacturing Co.
Mr. Joe Pope -- Realtor, Teacher, and Peace Corps Volunteer
Carter Seibels -- Owner and creator, Woman Shops World
Mrs. Asheley Scott St. John -- Owner, Architectural Firm
Mr. Nate Terracio -- Director, Koger Center for the Arts
Dr. John Thomas -- Veterinarian 
Ms. Madison Wactor -- Floor/Charge Nurse, Lexington Medical Center
Dr. Dwaun Warmack -- President, Claflin University
Mrs. Christina Wells -- Realtor, YIP Premier Realty
Mrs. Elizabeth Wolfe -- Realtor, Wolfe and Taylor