Remembering Cindy Scannella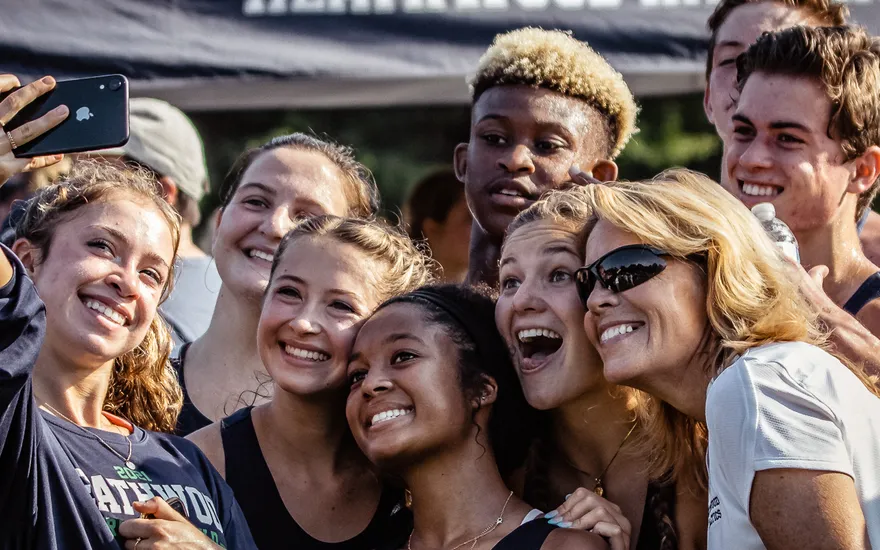 UPDATE - Please join us for a memorial service celebrating the life of Cindy Scannella on Sunday, September 25th at 2:00 p.m. in the Chapel of the Epiphany. The memorial service will also be live streamed on YouTube via this link: https://youtu.be/6Z0gAJ8KoYY.
---
It is with heavy hearts that we share that Cindy Scannella passed away on Saturday afternoon after a courageous year-long battle with cancer. 
A beloved member of the Heathwood Hall, Cindy enriched the community through her leadership, dedication, tenacity, and great sense of fun. Cindy loved her students, and it showed through her passion on the track and in the yearbook classroom. Her greatest legacy may be the way she could inspire others to believe in themselves. Cindy's students and athletes believed that they could achieve great things because they knew that Cindy believed in them.
Driven and full of energy, Cindy served in many capacities during her eight years at the school. She was especially close to our Upper School students and faculty. She served as the division's administrative assistant, yearbook advisor, and long-time Boys Cross Country and Track & Field Coach.
Cindy poured herself into her role as coach. She awoke on countless mornings before dawn to lead cross country meets. She drove the bus, pitched the tent, set up the course, coached and cheered on her runners, and packed everything up as the sun set. Cindy had a talent for discovering the strengths of each runner and encouraging their development. Her dedication to her athletes pushed them to great heights. Under her leadership, Heathwood students earned numerous individual and group accolades, including two SCISA State Boys XC Championships ('16 & '20), a SCISA State Boys Track & Field Championship (2021), and two SCISA "Best All Around" yearbook awards ('16 & '18).
Also a talented photographer, Cindy was often found with her camera in hand, snapping pictures of campus life and her teams' sporting events. She brought her unique perspective to Heathwood through her photography and work with the yearbook. Her photographs and award-winning yearbooks captured the moments that revealed the best of Heathwood, celebrating the people and moments that have shaped Heathwood's identity. In documenting the happiness Cindy found on campus, she brought joy to the community. Dedicating afternoons, evenings, and weekends to supporting her athletes and yearbook staff, Cindy demonstrated her prowess as a coach and artist, setting standards for excellence in both fields.
Heathwood is deeply grateful for the positive role Cindy has played in the lives of so many students, building their confidence and pushing them to discover their potential. The faculty and staff will miss her organization, hard work, and attention to detail. We will always remember her hearty laugh, confident leadership, boundless energy, and fast-paced walk. Our thoughts and prayers are with Cindy's husband, Jim, and their children, Katie and Anthony.
In lieu of flowers, her family appreciates the gift of memorials made to the Cindy Scannella Memorial Fund at Heathwood Hall. (www.heathwood.org/donate, found under "fund designation")