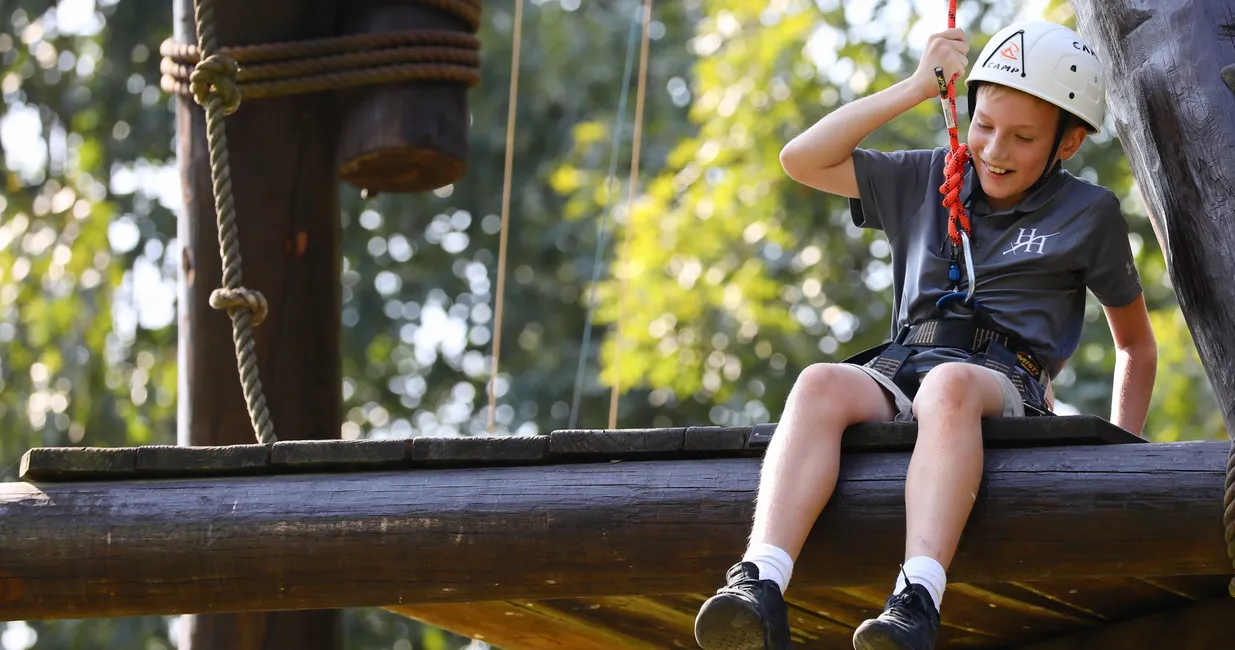 Adventure Base Camp Elements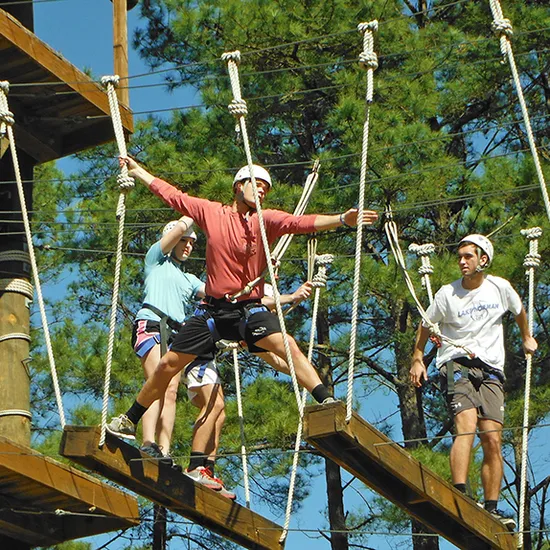 Odyssey Course
The Odyssey course is a high ropes course designed specifically for small group team building and includes 6 different elements that foster cooperation, physical and emotional challenge, and empathy.
Alpine Tower
The Alpine Tower is a 50-foot climbing structure that includes three basic climbing routes and dozens of initiatives that promote individual challenge and healthy risk-taking.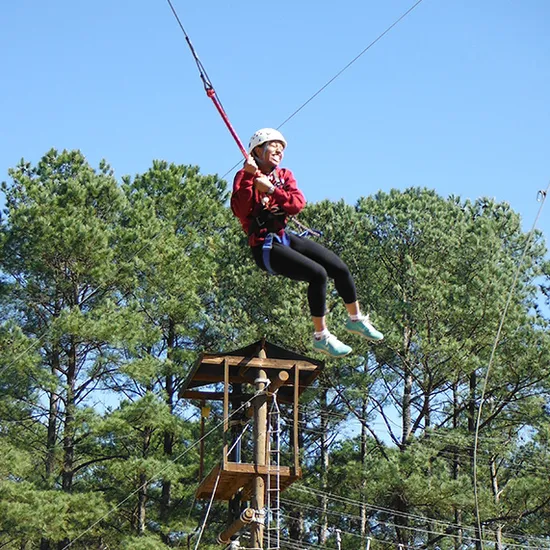 Giant Swing
The Giant Swing offers an exciting pendulum swing from a height of 30 feet.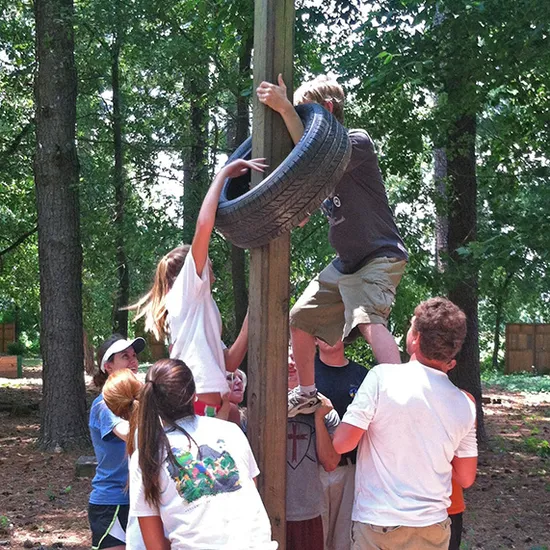 Initiative Activities
The initiative area at ABC includes over a dozen different initiative elements that promote a set of critical skills for small groups. Toxic Waste, Traffic Jam, the Whale Watch, the Wall, the 3-D Spider Web, the Ring Thing, Chicken Run, the King's Finger, Trollies and others give life to opportunities for communication, cooperation, trust and decision-making.
Heathwood Pond and Boathouse
This unique venue hosts paddling, fishing and activities related to aquatic ecology. A deck and connecting dock allow for small groups to gather near and on the water; a ramp allows for easy canoe and kayak entry into the pond; and, the boathouse and nearby boat racks house paddling and fishing gear and dozens of boats including canoes, sit-on-top, whitewater and touring kayaks, and stand up paddle boards. Scout groups may find the facilities available at the Heathwood pond useful in completing merit badge requirements. 
Pond
A one-acre pond is home to healthy populations of bass, bream and other aquatic life. The pond also serves as a venue for paddling instruction, training, and informal boating activities.
Deck, Dock and Boat Ramp
A railed deck, complete with benches and situated in a shady area on the shore of the pond, serves as an outdoor classroom for aquatic ecology classes or paddling instruction. A dock offers space "on the water" for fishing or observation. A boat ramp provides a clean entry into the pond for kayaks, canoes and paddle boards.
Boathouse
The boathouse offers sheltered space for PEAK to store whitewater kayaks, touring kayaks and paddle boards, and to park a cargo trailer, two kayak/canoe trailers, a john boat and pick-up truck. The boathouse also provides inside storage space for paddling and fishing gear including paddles, PFDs, spray skirts, dry bags, rescue gear, fishing rods and tackle. In addition, six enclosed changing rooms are available for paddlers.
Boats
PEAK offers paddling programs and events that use canoes, whitewater, touring and sit-on-top kayaks, and stand-up paddle boards. Programs often begin at the Heathwood pond and move to local waterways including the Saluda and Congaree Rivers as well as a variety of backcountry paddling venues in the low country of SC and the mountains of NC.
Weston Trailhead and Cabin
The Weston Cabin sits at the trailhead for the Anne T. Weston Trail which encircles the campus. The cabin also marks the staring point for an Orienteering course, houses a wide variety of natural history items, and serves as storage for an archery range which is situated on the field behind the cabin. Scout groups may find activities available at the Weston Trailhead Cabin useful in completing merit badge requirements.
Weston Trailhead Cabin
The Weston Trailhead Cabin houses a variety of items including arrow heads, pottery shards, animal bones, and nature ID cards and provides an exciting remote classroom location for students studying aspects of environmental science and natural history.
Anne T. Weston Trail
The Weston Trail is a 1.5 mile trail encircles the campus and offers a variety of environmental stations and activities, including state-of-the-art ID stations that allow students to gain detailed information online about the local flora and fauna. The Weston Trail can also be used for mountain biking and running.
Archery Range
Students learn to shoot Olympic-style archery with Genesis bows at targets located at competition distances. Students may access the range through Outdoor Ed classes, the Heathwood Archery team, and PEAK after school or community programs.
Orienteering Course
PStudents learn to read a compass and measure strides, take a bearing, and plot a course as a variety of routes are available and designed to sharpen navigational skills. Students also learn about famous explorers during the process.